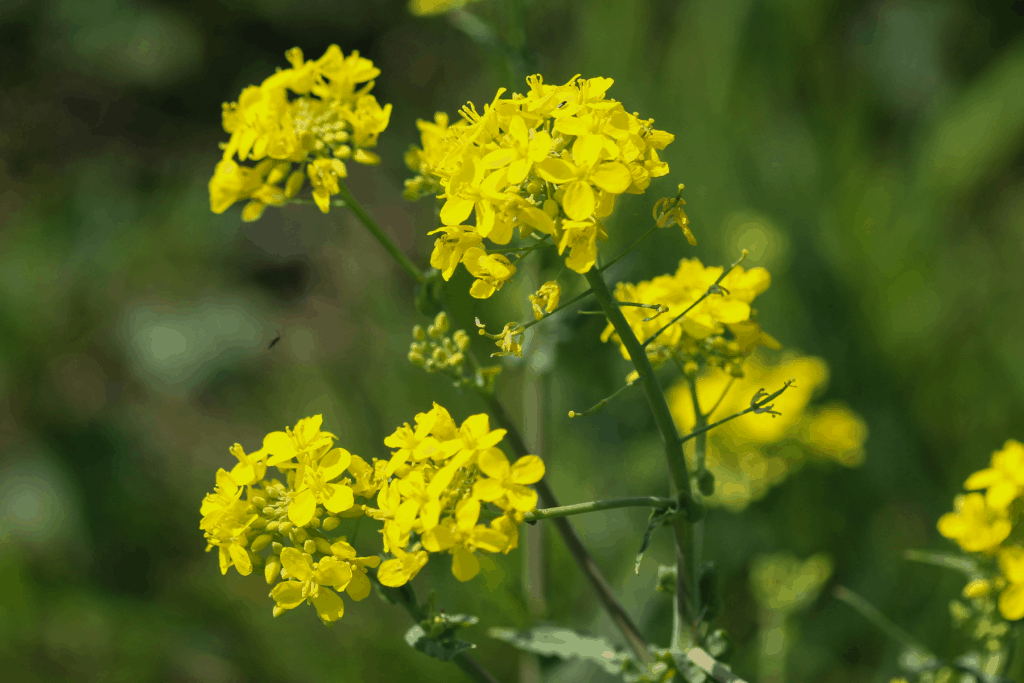 Yellow Rocket Cress (Barbarea vulgaris) is the wild edible, much like broccoli, that most people see in open fields each spring. It can bloom from spring through summer, and is one of the many weeds with yellow flowers that you see abundantly along roadsides and in fields. Yellow Rocket Cress, also known as bittercress or winter cress, is known fairly well by older generations, like your great grandparents, as it was a staple in many farm and village kitchens in the spring and summer months. The delicate spring leaves (before flowering) taste incredible in salads, and aren't bitter at all (contrary to its name). As the flowers open, the leaves become more bitter, but still edible. You can sauté or cook the leaves in things like stews, stir fries, and more. The stems and unopened buds can be cooked much like broccoli.
Let's dive a little further into this wild edible and herb, and talk about some of the medicinal benefits it may have as well. This is a quick blog post, but we definitely hit the necessary information about the herb!
Does Yellow Rocket Cress Have Medicinal Benefits?
Yellow Rocket Cress is often known as bittercress or winter cress. Its botanical name is Barbarea vulgaris. While there isn't much information about this wild edible, there are certainly some folk medicine uses for it.
Historically, the plant has been used as a poultice for wounds. It was thought to be an efficient medicinal for scurvy, which is a vitamin C deficiency. This weed with yellow flowers is also a natural diuretic.
Because bittercress is bitter, it is used as a natural plant bitter. Bitter plants cause salivation and get the digestive juices going. This means it's a great plant to eat before or after a large meal so that it aides in digestion.
Indigenous people used to use the aerial parts of the plant as a blood purifier, and the leaves as a poultice for wounds.
While this beautiful plant doesn't seem like it holds much in medicinal value, it's always good to know what the growing plants around you have to offer in case you need them!
It's important to know that excessive ingestion and use of this herb can cause kidney malfunction.
Is Bittercress/Wintercress Edible?
Bittercress is absolutely edible. As mentioned above, you can sauté the leaves like spinach or in a stir fry. If they are still young, before the plant flowers, you can cut the leaves up and place them in salads for a delightful treat. Because the leaves are high in vitamin C, it's a great way to eat your vitamins!
The flowers of winter cress are also edible. They look absolutely stunning in salads, or you can dry them out and use them in tea for a hint of sweetness.
This wild edible can seem very bitter to some foragers. If you find this to be true, simply boil the plant leaves and stems for about 2 minutes, then rinse in cold water and use in whatever preparations you'd like. They can be cooked more, as well. This method of boiling will release that bitter taste that the leaves can often put off.
As you are out foraging for bittercress this spring and summer, be sure to grab a taste of the leaves, even if you have no intention of bringing them home to cook. Just be careful not to harvest from plants that are too close to the road, as they could have soaked up toxic chemicals.
Other Posts You may enjoy: