Now, right before spring switches over into summer, is the time to start paying attention to where this wild foraged herb may grow. It will often grow in fields, along roadsides, and in soil that isn't necessarily the healthiest. You can find it in dried out flower beds, driveways, and fields. The herb I'm talking about is poke weed, and more specifically, the root.
Phytolacca americana L. (poke)
The name of the plant is actually just "poke". I grew up hearing this plant called "poke berry" or "poke root". Old folks called it this because these were generally the parts used. Throughout history, the berries have been used as a dye or ink. Maybe you even tried it out yourself as a child. The new, baby leaves were often used in salads in the spring time, however, they should be boiled multiple times first (with the water changed each time). The root is where all of the medicinal value seems to be condensed, though.
This plant should absolutely be respected, because it is a toxic medicinal plant, not a tonic plant.
Actions: Anti-rheumatic, stimulant, anticatarrhal, purgative, emetic, antibacterial, antiviral, anticancer
In the herbal world, poke root is most commonly known for its ability to cleanse the lymphatic system and glands. It is a primary remedy for infections in the upper respiratory tract, tonsillitis, laryngitis, catarrh of any kind, swollen glands, and even mumps.
However, poke root is also a very effective natural antibiotic for infections specifically of the respiratory tract, lymphatic system, and breasts.
Poke root, taken internally and even used as a poultice, may help with rheumatism and skin issues.
A 2014 study showed that poke root had incredible antimicrobial effects on certain periodontal bacteria.
Another 2014 study showed that poke root has anticancer effects, especially on the colon. This would also be true for the lymphatic system, since we know that poke root cleans the lymphatic system. I always recommend that cancer patients should also be taking poke root at all times.
More recent studies on this medicinal plant have focused on its antiviral properties. Could poke root have antiviral properties? Maybe. If you're like me, you question the existence of viruses to begin with. However, it could be more possible that, virus or not, poke root flushes the lymphatic system so well that nothing in your body trying to make you sick even has time to replicate. More studies need to be done, but this would be one of the best theories, in my opinion.
Safety & Dosage
In large doses, poke can cause vomiting, diarrhea, and even light headedness.
Tincture dosage (1:5 ratio), is 3-5 drops a day, or up to twice a day. A 1:10 ratio is .25 ml three times a day.
You may, eventually, be able to work up to 8 or 10 drops a day if necessary, but that would only be for chronic illnesses.
I, personally, never recommend the herb in tea or decoction form. However, in a bind, you certainly can. Use 1/4 tsp of root in 1 cup of water, bring to a boil, and simmer for 10-15 minutes. Drink up to 3 times a day.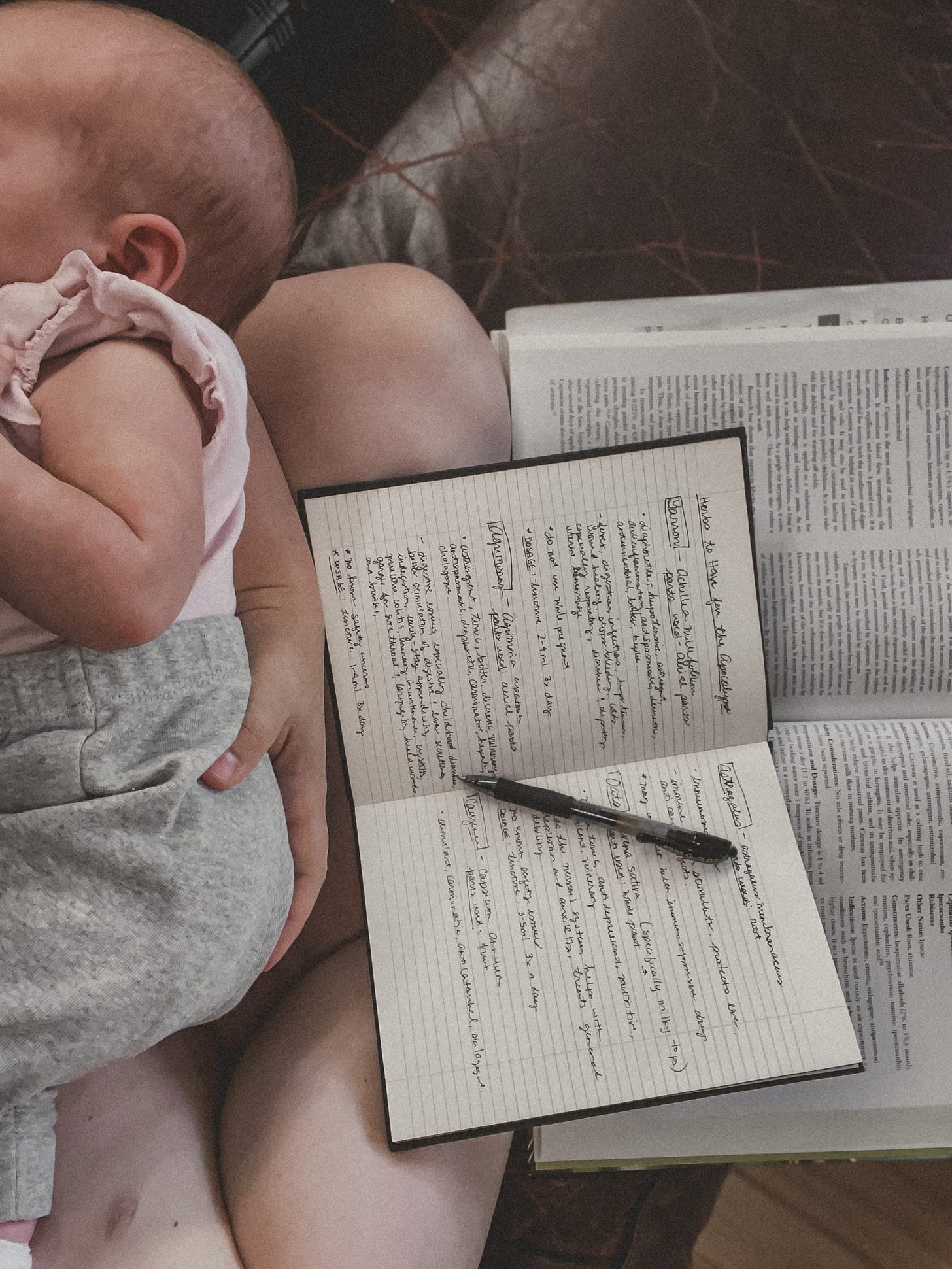 Healing Mastitis With Poke Root
Perhaps one of my greatest loves for poke root is its ability to keep busy, tired, nursing mamas away from antibiotics. I know, because I'm a living testimony of it working. With our first son, I kept mastitis. Part of it was due to the fact that I had to work outside of the home and pumping was torture. With our second son, I also had mastitis quite a few times—more than likely due to a horrible latch in the beginning.
Both experiences led to a drop in milk supply, supplementation, and a not-so-blissful nursing experience, at least for the first few months. I couldn't stay ahead of the game because mastitis made me feel so sick and tired, on top of taking antibiotics to heal it.
Towards the end of my nursing season with our second son, I knew so much more about herbalism not just from a textbook standpoint, but an experience standpoint. Looking out my living room window one day, I saw a large poke root plant growing in a weedy flower bed. Procrastination on this homesteaders part really does pay off sometimes.
Instantly, the Holy Spirit quickened my spirit and I just knew, I needed to harvest this root. I was going to need this one day. We had no plans of having another baby, and didn't even know if we could (another long story). But somehow I knew, we would have another baby, and I would need this remedy.
Read the rest of this paid article on my Substack!